It is so wonderful to see our ministries working to continue to be prayerful and be there for each other during this time of being Safer At Home. See how some of our ministries are coming together and staying connected.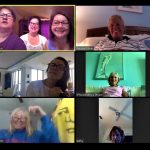 Our Rosary Devotional Group is a group of parishioners who enjoy opening themselves up to God by praying the Rosary. Each month, they meditate on one of the mysteries – Joyful, Sorrowful, Luminous, or Glorious, and members have the opportunity to make prayer requests on behalf of those in need. Last Saturday was their usual meeting date and they did not allow the Safer At Home rules to keep them from meeting. They all met on Zoom and those who didn't have a computer, called in.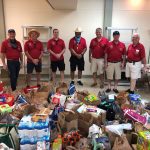 Our Knights of Columbus participate in many projects within our community and within our parish. Their latest project was to assist in collecting food for Hillsborough Hope. Last week, we shared with our parishioners how we are working with Catholic Charities to help feed those residing at Hillsborough Hope, a small city of tents for some of the homeless in our community. We asked for your help and as always, you went above and beyond our expectations in helping those less fortunate. You donated enough food for many weeks. Every Sunday, we will bring 110 bagged breakfasts for those living at Hillsborough Hope. This past Sunday our Knights of Columbus handled the collection and distribution to Hillsborough Hope but some of our other ministries will also be assisting in future weeks. For more information about Hillsborough Hope and some great photos, go here.
Our Open Doors ministry welcomes LGBTQ people of faith to explore their spirituality and share their experience, strength, and hope with one another. In addition to service projects, they gather once a month for prayer and reflection. Next Monday, April 13th, they will be having a virtual "zoom" meeting. Email opendoors.sacredheartfla@gmail.com for  information on how to join the meeting.